In the past, we often produced non-branded jewellery for well-known retail jewellers. This changed when we started participating in international trade shows and we had to set ourselves apart from other jewellery manufacturers by producing collections with innovative designs and materials. Over the years, we created unique lines of jewellery; four of which we will present in detail. Today, all new collections made of diamonds and coloured gemstones have their own names.
The exclusive collection with rough diamonds
In 1976, Thomas and Charlotte Frieden were inspired to create this first exclusive line of jewellery during a business trip to South Africa. Fascinated by the shapes and colours of the uncut diamonds on the sorting tables of the Kimberley mine, they came up with the idea of combining rough diamonds with faceted diamonds and special gold patterns. Countless series of models with designs inspired by nature, delighted customers from the Caribbean to Japan. New collections were added every year, but customers were simultaneously able to request individual designs according to their wishes. The slogans, "beauty from uncut nature" or "exclusive but affordable" are still relevant today.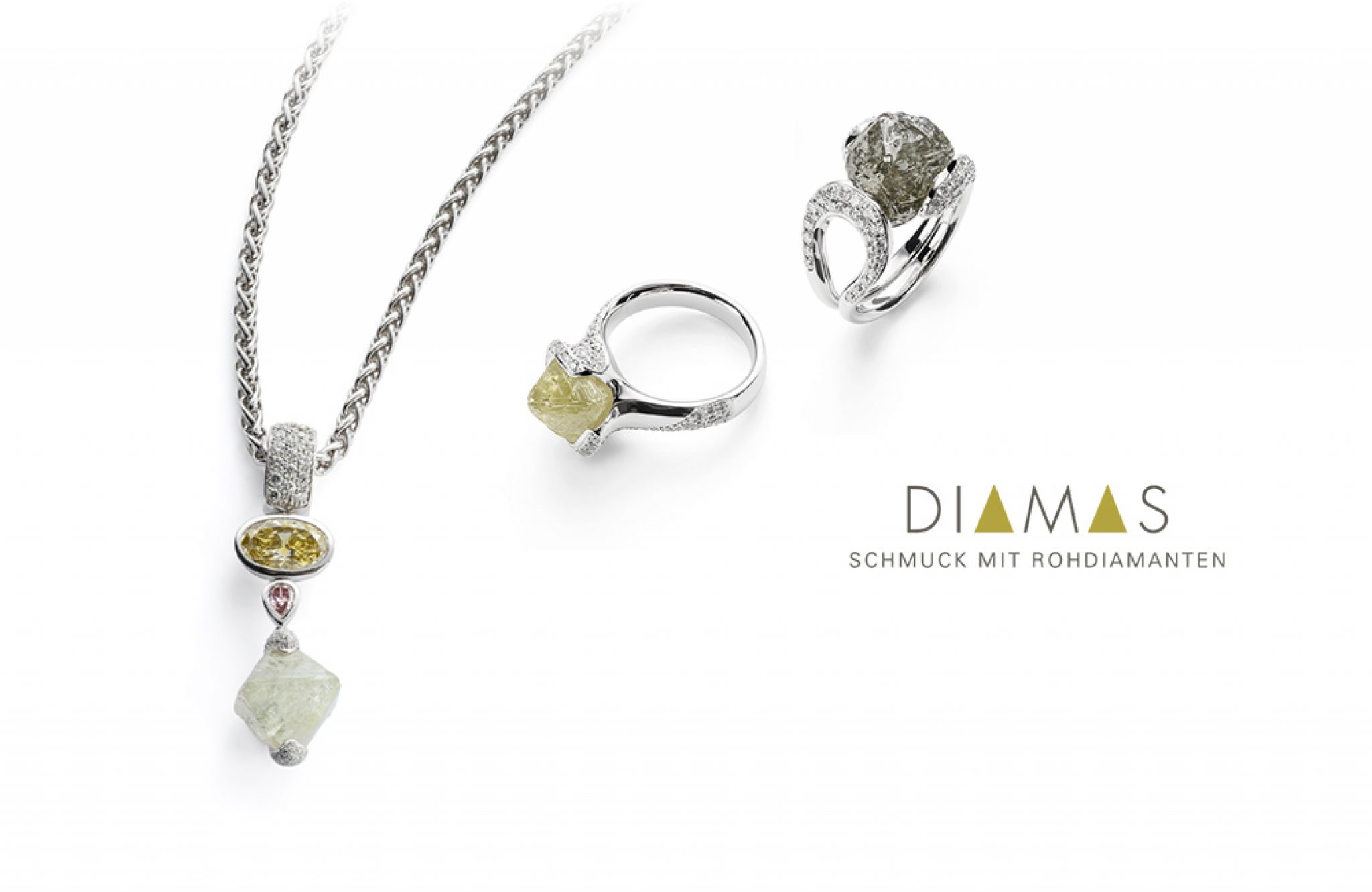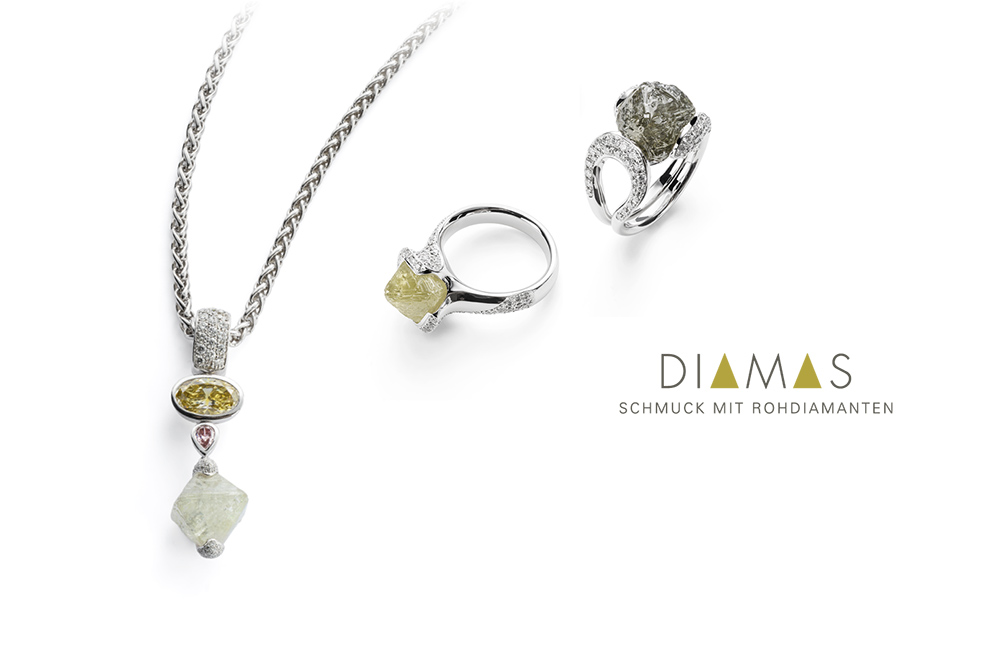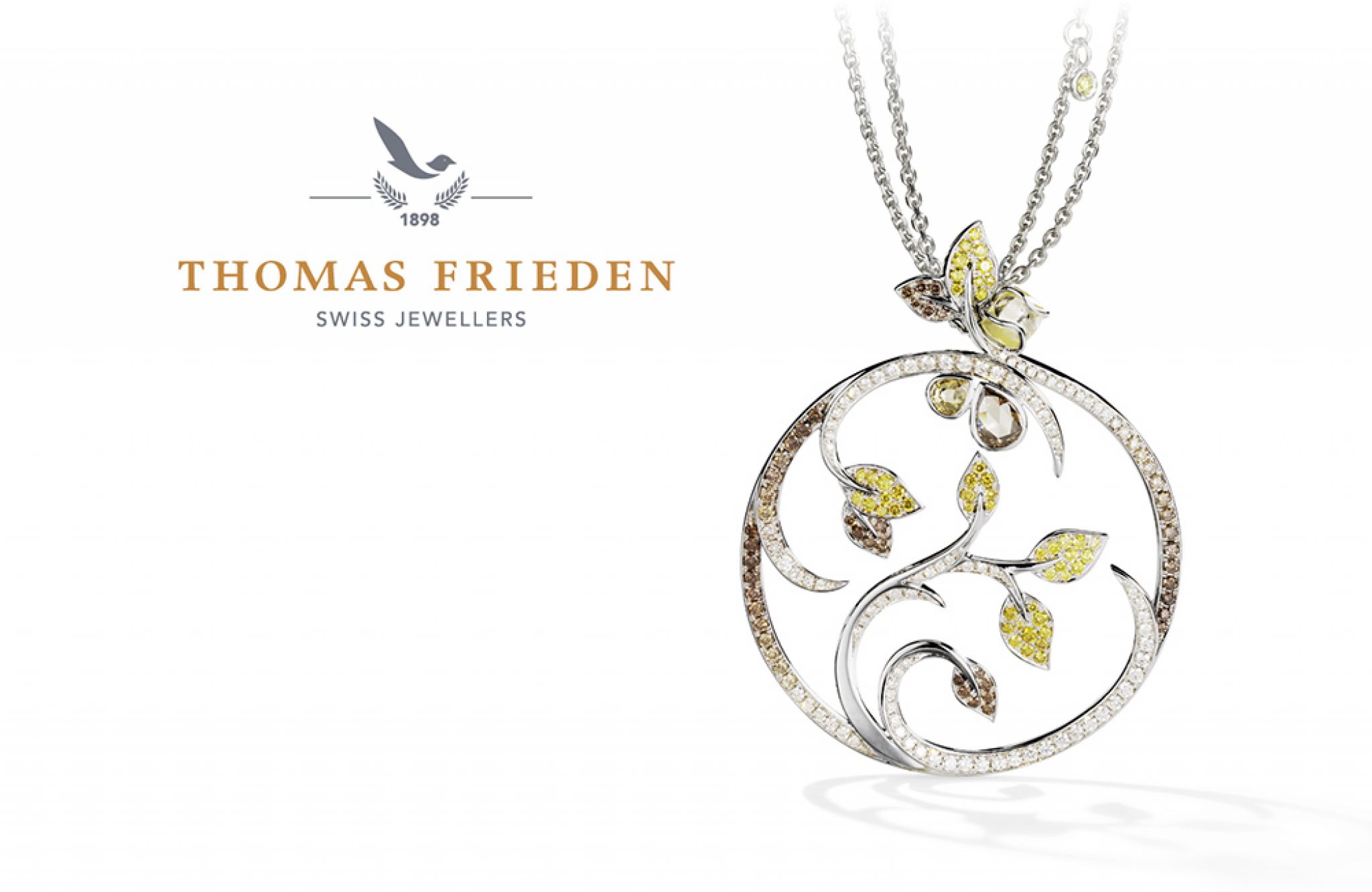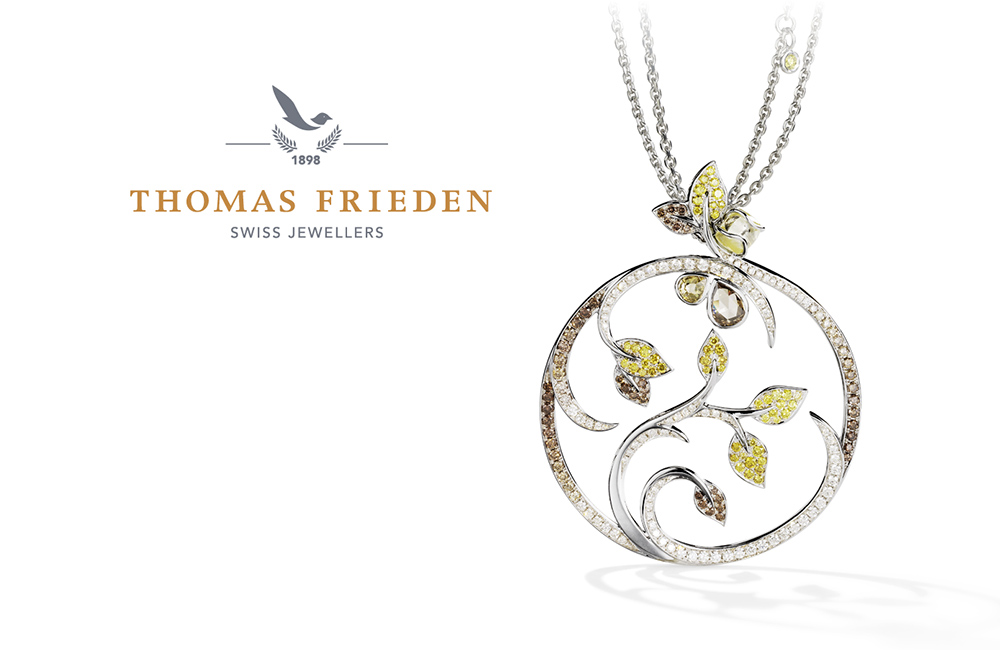 The inspiration for the THOMAS FRIEDEN collection was found in our company's archives. Reviving old patterns and incorporating them into new designs and styles was the beginning of our desire to create a new branded collection in 2013. To provide the brand with an unmistakeable identity and to inspire emotion was a great challenge. Our pieces express great harmony through their perfect shapes and exclusive materials. The diamond, the king of all precious stones, is celebrated in a very special way: for the first time, all its different shapes are displayed in exquisite designs that uniquely combine tradition and modernity. The great variety of cuts and the natural pastel colours make every piece of jewellery a unique, truly one-of-a-kind piece with an engraved number and certificate of authenticity. The collection includes three different lines: Feuille Divine, Oeil Magique and Fleur Céleste.
The natural coloured sapphires from Madagascar collection
As co-owner of the Pink Valley Mine in Madagascar, Frieden launched the RAINBOW COLLECTION a few years ago and has continuously been expanding it. The natural, pastel-coloured sapphires line up in flowing lines that are uniquely beautiful and are of a unique quality. They unfold their play of rainbow colours in bracelets and necklaces that are extremely supple and comfortable to wear.
In contrast to those from Thailand and Sri Lanka, sapphires from Madagascar are already a beautiful colour in their natural state, and they do not have to be heated to improve their colour. Most of the sapphires are in the colours of pink to pink-purple, others are blue, violet, yellow, green and, very rarely, orange to salmon-coloured stones.
Only the finest qualities and cuts are used and the colour transitions of the lines must be extremely fine. The sapphires are cut by hand, and the colour lines are put together in different sizes and shapes by experienced designers. Pieces of jewellery with natural-coloured sapphires from Madagascar are absolute rarities: the supply of suitable material is not guaranteed, and it may take several months to assemble a rainbow line.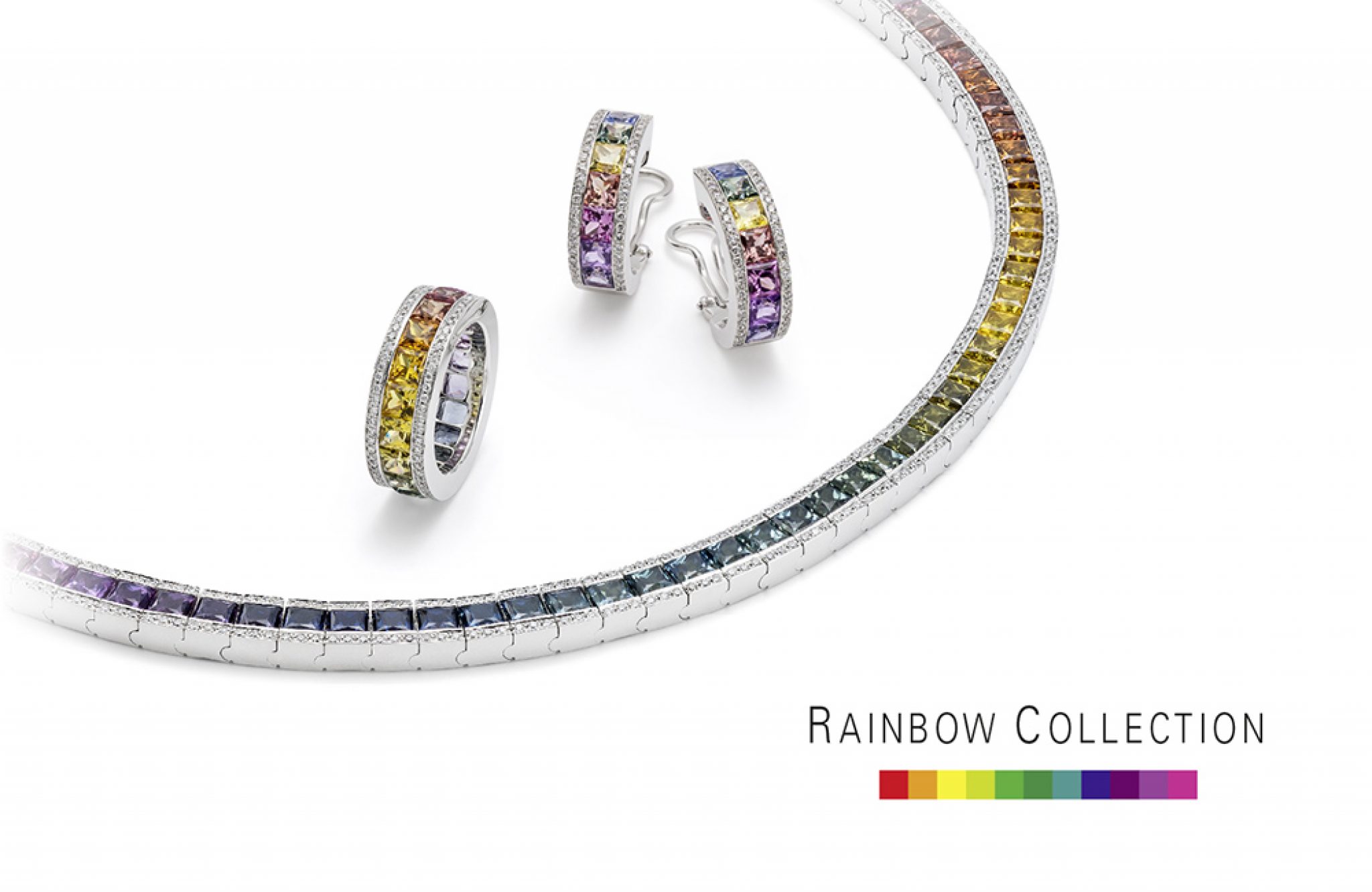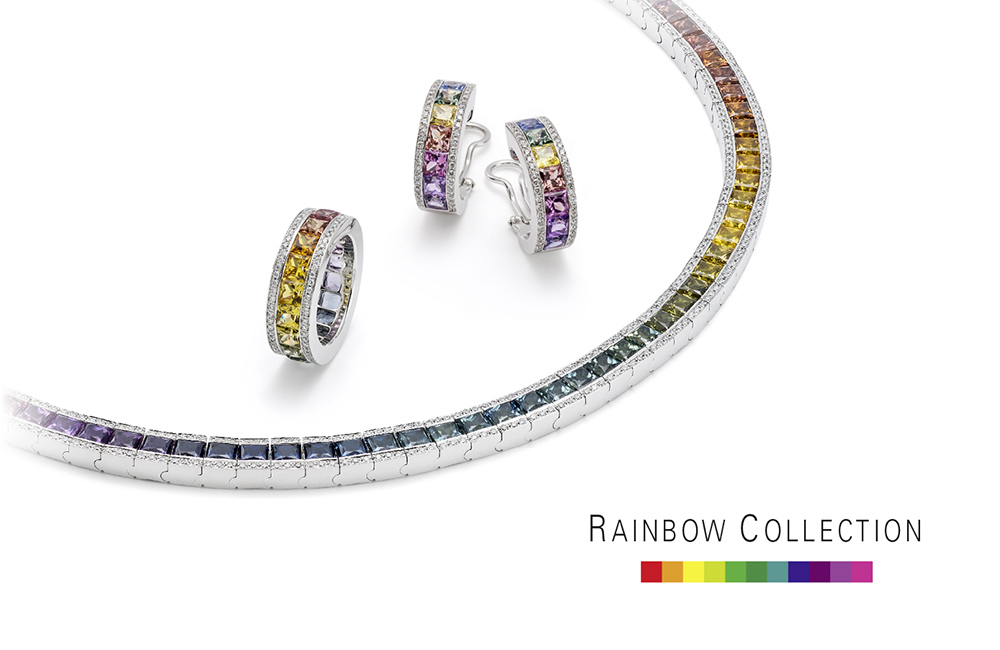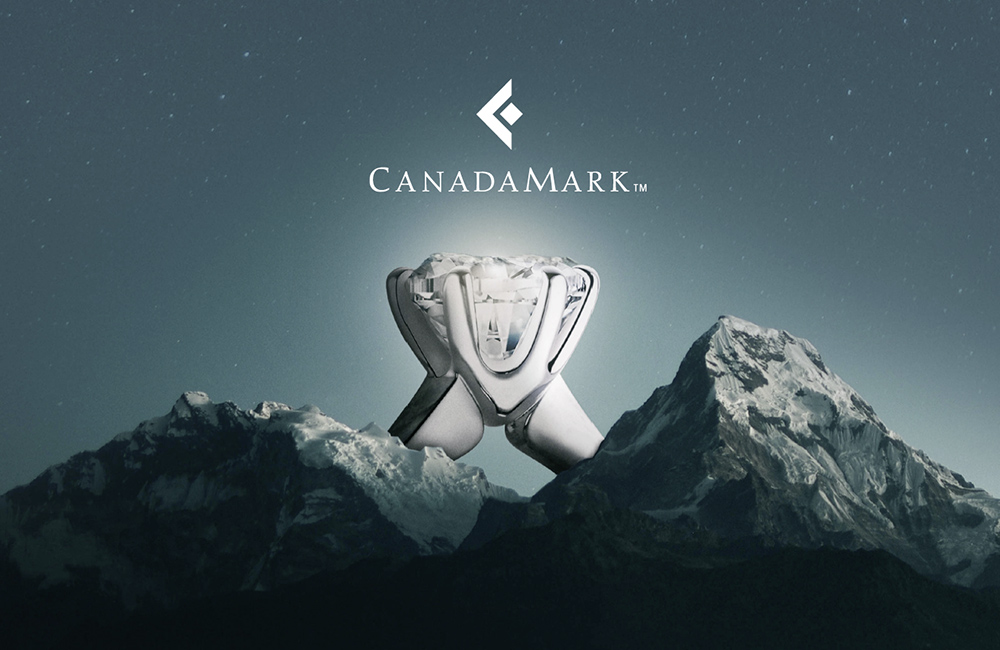 Diamonds with certified origin
The latest addition to our unique jewellery lines is the Solitaire line of Canadamark™. This registered trademark is exclusively reserved for diamonds that are responsibly mined in the far North of Canada. Each Canadamark™ diamond has a unique serial number engraved on its girdle. The same number can be found on the certificate that comes with the stone to confirm the mine of its origin and its weight as a rough and cut stone. In addition, each Canadamark™ diamond also comes with a GIA certificate, the most well-known diamond certificate, which confirms all diamond quality criteria.
Canadamark™ diamonds grew over thousands of years in Canada's unspoiled North, close to the Arctic circle. The Canadamark™ diamonds are responsibly mined in the Ekati and Diavik mines; these mines must meet Canada's stringent environmental regulations. Responsible mining means respecting the environment, improving lives and strengthening the communities of local residents.